When you live by the bay, you're not just investing in a home; you're investing in a lifestyle. With the serene water views, gentle breezes, and proximity to nature, waterfront properties offer a unique living experience. However, to make the most of it, you need to think about how to define and protect your outdoor space. Fencing plays a critical role in creating that perfect waterfront oasis. In this guide, we'll explore essential fencing considerations for Bayfront Exteriors, helping you make informed choices to enhance both the aesthetics and functionality of your outdoor space.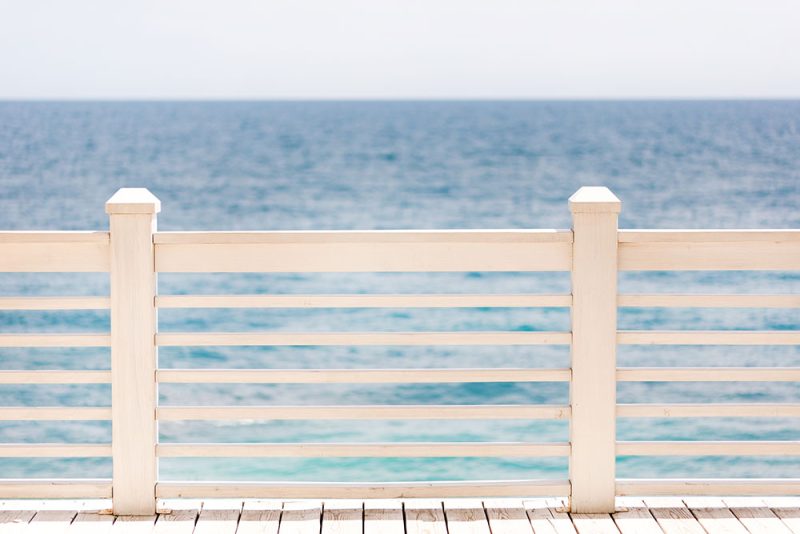 Waterfront living offers panoramic views, but it also requires a balance between openness and privacy. Choosing the right materials and design can play a pivotal role in achieving this balance. We'll delve into the options that not only safeguard your space but also harmonize with the natural beauty of the waterfront. Let's explore the wooden fence types that allow you to embrace the view, preserve your privacy, and add a touch of classic charm to your waterfront property.
1. Embrace the View
One of the primary reasons for living by the bay is to enjoy impressive views. When selecting a fence, it's essential to balance the need for privacy and safety with the desire to embrace the natural beauty of the surroundings. Consider options like horizontal slat fence, cable railing, a picket fence. These choices allow you to enjoy unobstructed views of the bay while maintaining safety and functionality. Furthermore, these modern options add a sleek and contemporary touch to your property, seamlessly blending with the scenic backdrop.
2. Durability Against the Elements
Waterfront properties are subjected to the elements in ways that other homes may not be. The salt air, high humidity, and exposure to strong winds can take a toll on outdoor structures. When selecting fencing materials, prioritize durability. Materials like aluminum, vinyl, and composite materials are resistant to corrosion and require minimal maintenance. These options will withstand the rigors of a waterfront environment while retaining their appearance and structural integrity over time.
3. Compliance with Local Regulations
Waterfront properties often come with specific regulations and restrictions. It's crucial to familiarize yourself with local ordinances and homeowner association rules regarding fencing. Regulations may dictate fence height, design, and even the materials you can use. Failure to comply could lead to fines and removal of the fence. Working with a professional fencing contractor who is knowledgeable about local regulations can help you navigate these requirements efficiently.
4. Privacy and Security
While waterfront living is all about embracing the natural environment, privacy and security remain essential concerns. Your fence can serve as a barrier against unwanted intruders and provide a sense of seclusion. Consider fencing designs that balance visibility with privacy, such as louvered or semi-private options. Additionally, ensure that your fence design includes secure gates and locks to safeguard your property and loved ones.
5. Complementing Aesthetics
Your fencing choice should enhance the overall aesthetics of your waterfront property. The fence should blend harmoniously with the architectural style of your home and the natural surroundings. Many fencing materials and styles are available to help you achieve the desired look, whether you prefer a traditional, contemporary, or coastal design. Consider decorative elements, such as post caps and ornamental features, to add a touch of elegance and uniqueness to your fence.
6. Maintenance Requirements
The salt air and humidity of a waterfront location can accelerate wear and tear on your fencing. Choose materials that require minimal maintenance to ensure that your fence remains in top condition. Vinyl and aluminum, for example, are virtually maintenance-free, requiring only occasional cleaning. Wood, on the other hand, will need more regular attention, including staining or painting and sealing to protect it from the elements.
7. Budget and Cost Considerations
Your budget is a significant factor in your fencing choice. While it's tempting to splurge on a premium fence to match your waterfront property, it's essential to find a balance between your design aspirations and your budget. Consider the long-term costs, including maintenance and repairs. A professional fencing contractor can help you explore various options within your budget and guide you towards cost-effective choices that align with your vision.
Bayfront Exteriors is the right choice for quality fencing
In the enchanting world of waterfront living, your outdoor space should be a sanctuary that combines functionality, beauty, and safety. When selecting the right fence for your waterfront property, keep in mind your view, durability, local regulations, privacy, aesthetics, maintenance, and budget. By considering these factors, you can ensure that your fence complements your waterfront lifestyle, creating a space where you can truly savor the views of the water's edge.