Welcome to Bayfront Exteriors, your trusted partner in transforming commercial exteriors. We understand that you may have questions about our services and how we can help enhance the aesthetics, functionality, and durability of your commercial property. To assist you, we've compiled a comprehensive FAQ that covers the most common inquiries about our company and the services we offer.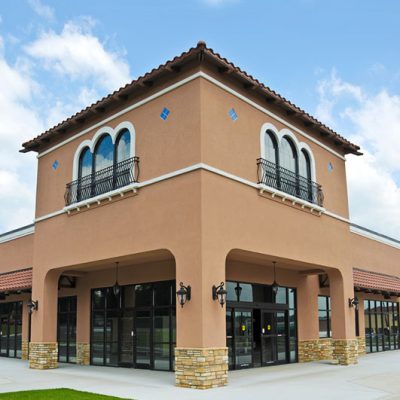 What is Bayfront Exteriors?
Bayfront Exteriors is a professional commercial exterior company specializing in a wide range of services, including exterior renovations, siding installation, roofing, window replacement, and more. We are dedicated to providing high-quality, cost-effective solutions to enhance the appearance and longevity of commercial properties.
What types of commercial properties do you work on?
We work on various types of commercial properties, including but not limited to offices, retail spaces, industrial facilities, educational institutions, healthcare facilities, and hospitality venues. No matter the size or purpose of your commercial property, we can help you.
What services does Bayfront Exteriors offer?
Bayfront Exteriors offers a comprehensive range of services, including:
– Exterior Renovations
– Exterior Repairs
– Siding Installation and Repair
– Roofing Services
– Window Replacement
– Door Installation
– Waterproofing
– Gutter Installation and Maintenance
– Exterior Painting
– Lighting
– Fencing
– Storm Shutters & Screens
Do you offer custom solutions for commercial exteriors?
Absolutely! We understand that each commercial property is unique, and we tailor our services to meet your specific needs. Our team of experts will work closely with you to develop a customized plan that aligns with your goals and budget.
How do I get started with a commercial exterior project?
To begin your project with Bayfront Exteriors, you can contact us through our website, phone, or email. Our team will schedule a consultation to discuss your project's scope, budget, and timeline.
Do I need to obtain permits for my project?
The need for permits depends on the scope and location of your project. We will assist you in obtaining any necessary permits and ensure that your project complies with local regulations. Give us a call to discuss and we will inform you of the permits required for your specific project.
Can you provide a cost estimate before starting the project?
Yes, we provide free initial consultations and cost estimates. However, please note that the final cost may vary depending on the project's specifics and any changes that may occur during the process. We strive to provide accurate and transparent pricing to our clients.
What types of materials do you use for your projects?
We use high-quality materials from reputable suppliers to ensure the durability and longevity of your commercial exterior. We offer a wide range of options to suit your preferences, including various siding materials, roofing materials, windows, and more.
How do you ensure the quality of your work?
At Bayfront Exteriors, we have a team of experienced professionals who are skilled in their respective fields. Additionally, we conduct thorough quality inspections at different stages of the project to ensure that all work meets our high standards.
How long does a typical commercial exterior project take?
The timeline for a project can vary significantly depending on its size and complexity. During the initial consultation, we will provide you with an estimated project timeline. We work efficiently to complete projects in a timely manner while maintaining the highest quality.
What happens if there are delays in the project?
While we strive to minimize delays, unforeseen circumstances can sometimes impact project timelines. If delays occur, we will communicate with you promptly and work to find solutions to keep the project on track.
Do you offer maintenance services for commercial exteriors?
Yes, we offer maintenance services to ensure the ongoing integrity and appearance of your commercial exterior. Regular maintenance can extend the lifespan of your exterior features and prevent costly repairs.
What kind of warranty do you provide for your work?
We stand behind the quality of our workmanship and materials. We offer warranties on our services and products, and the specific terms and coverage will be discussed with you before the project begins.
What are your payment options?
We offer flexible payment options to accommodate your budget. You can discuss payment schedules and methods with our team during the project planning phase.
Do you offer financing options?
Yes, we can help you explore financing options to fund your commercial exterior project. We work with reputable financial institutions to provide financing solutions that suit your needs.
How can I contact Bayfront Exteriors to discuss my project?
You can contact us via phone at [insert phone number], email at [insert email address], or through our website's contact form. We are here to assist you and answer any questions you may have.
Do you offer on-site consultations?
Yes, we offer on-site consultations to assess your commercial property and discuss your project goals in detail. This allows us to provide you with the most accurate recommendations and estimates.
At Bayfront Exteriors, we are committed to delivering exceptional results for your commercial exterior projects. If you have any more questions or would like to start discussing your specific project, please don't hesitate to reach out to us. We look forward to working with you to transform your commercial property into a stunning and functional space.