Repairing damage to your home can be a difficult and time-consuming process. You will most likely have to deal with a number of challenges — from figuring out how to access the damaged area to getting the right materials and equipment. Your home's exterior is important to its vitality and integrity. So if there is any damage, it's better to work on addressing those issues before you start working on any interior remodeling project. At Bayfront Exteriors, we can take care of any type of exterior home repair — whether it's rotted wood siding and fascia or old windows that need to be replaced.
Exterior Home Repair Services That We Provide
Keeping your home's exterior properly maintained can prevent expensive repairs. If you have gutters that aren't draining properly, loose shingles, or any other exterior problem, you need to take care of it before the problem gets worse. Your home's exterior has to endure everything from blazing heat and extreme cold to exposure to moisture, dirt, and grime. All of it can lead to problems over time.
We offer a variety of exterior home remodeling and repair services to residents of the Coastal Bend, which include the following:
Painting — The look of your home's exterior will go a long way toward the impression people will have about it. If it looks drab and unkempt, most people will expect the inside to look the same way. Your home's exterior should be repainted every 8 to 10 years due to normal wear and tear. If you live in a harsher climate, it should be repainted every 3 to 4 years. If you're using a latex paint, the outside temperature needs to be above 60 degrees for it to cure properly. The surface also needs to be thoroughly prepped if you want the paint job to last.
Siding — Exterior siding can experience wear and tear over time. And like any other part of your home, it will require regular maintenance. Exposure to outside elements can make siding vulnerable to moisture and impact damage. It can even experience the buildup of dirt and grime. Wood siding can start to rot and decay from exposure to moisture. It can also get puncture marks, chipped paint, and broken panels. Even the buildup of dirt and grime can fade its natural color.
Windows — If you have exterior windows that are badly damaged, they can be repaired. But if the damage has affected the window frame and not just the glass, you may need to replace them. There are some situations where a window replacement may be necessary (such as water leakage or a window frame that has been severely damaged), but window repair will be up to 75% more affordable than replacing them. It's a good idea to repair them whenever possible instead of paying the extra expense for a full window replacement.
Fencing — Without regular maintenance, fences can have a hard time surviving in the hash Texas climate. You want to take care of any exterior fencing issues as soon as possible, so you can avoid any problems and extra maintenance costs later on. If you see any panels that are leaning, broken, or missing, you want to get it taken care of before things get worse. Any sagging or unaligned gates also need to be taken care of. You might also be seeing warped or split pickets, rails, or posts. If you do, you need to take care of it as soon as possible.
Doors — You may not think about it very often, but doors are important for your home's functionality and aesthetic. They can also experience wear and tear over time, and many older homes have older doors that are part of its overall look. If this is the case, it may be possible to repair it instead of having to replace it. Even a door that hasn't been properly installed can cause problems related to heating and cooling costs, because they haven't been sealed correctly.
Gutters — Your gutters are there to keep water away from your roof and the rest of your home by channeling it toward the ground. The problem is that water isn't the only thing that ends up in your gutters. Leaves, debris, shingle grit, and even animals can get stuck in there. And if they get clogged, the water will overflow (which can damage your home). It's important to clean them on a regular basis, because it can cause serious damage to your home.
Some of our recent work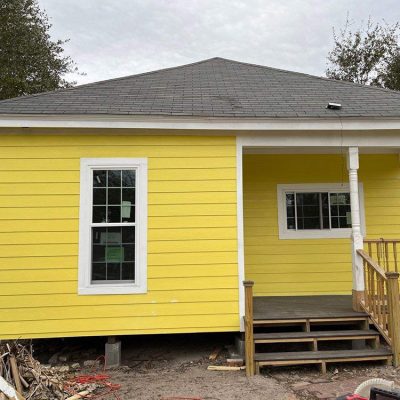 If you're looking for one of the best places for Corpus Christi home remodeling and exterior repair, be sure to get in touch with Bayfront Exteriors.