When it comes to materials, vinyl gutters are on the lower end of the spectrum (while more durable copper gutters will cost more up front). Within that spectrum, there are a number of options that you can explore. You also have the option of choosing different gutter shapes. The most common are half-round (which is the least expensive) and K-style (which is somewhere in the middle). A gutter installation can also be performed with or without seams. While seamless versions tend to be a little more expensive, they're not as prone to leaks and clogs. They stand up better over time and save in the long run.
TYPES OF GUTTERS
Some of the common types of gutters can include the following:
Vinyl Gutters — Also referred to as "PVC gutters," they're easy to install and are relatively inexpensive (which makes them a popular option). With lower material and installation costs, they're on the low end of the price spectrum. But, they tend to sag much quicker and will have a shorter lifespan than their metal counterparts. You can, however, often get more than 10 years of use in most environments.
Aluminum Gutters — These gutters will give you a good balance of cost and durability, which makes them another very popular choice. Material and installation costs are similar to vinyl gutters, but will last for decades with a minimal amount of maintenance. You can find them in a number of different colors. They're also lightweight, so they won't sag. They are, however, more susceptible to denting and corrosion. Aluminum gutters will last about 20 years under most conditions.
Galvanized Steel Gutters — If you want a gutter installation that will last the a long time with a low amount of maintenance, these gutters are worth considering. Installation and materials for galvanized steel are more expensive than vinyl or aluminum. But, they're less likely to leak or dent. You can expect them to last for more than 20 years. The downside, however, is that they can rust if the protective layer wears off. The styles and colors are also not as customizable.
Zinc Gutters — With a lifespan of up to 80 years, you're more likely to pay off your mortgage before you need to replace zinc gutters. Functional and stylish, zinc has a higher upfront cost compared to other types of gutters, but the longevity of their lifespan can make them a solid investment. Installation is not a DIY job, so be sure to contact a professional installer if you are considering going with zinc. It can still be a solid investment that can pay off in the long run.
Copper Gutters — With an attractive aesthetic and lifespan, these gutters are the ultimate pay more upfront and forget about it option. The average installation cost for copper gutters is 300% higher than vinyl gutters. But, they're incredibly durable, have a nice patina, and can hold up well in extreme weather conditions. You can also expect them to last anywhere from 60 to 100 years.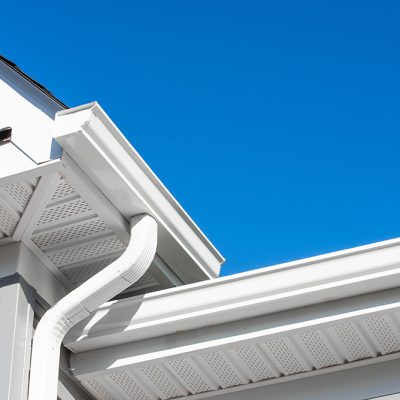 Gutters also come in the following shapes:
Half-Round — These types of gutters have a semicircular trough with a curled front or bead and are good for traditional homes. They work best with round downspouts because they drain water better than rectangular ones. Their curved sidewalls allow them to drain water more thoroughly.
K-Style — These gutters became popular after World War II and are still common today. They have a flat bottom and a profiled face that look similar to crown molding, and they're often fitted with rectangular downspouts.
Leaf Guards — These gutters have an aluminum hood with a curved lip, which draws water into a narrow slot. The design will block most debris, but they must be professionally installed. They also need to be professionally cleaned, which is usually an included service.
Which Type Of Gutter Is Right For Me?
When comparing different types of gutters, such as aluminum, vinyl, steel, and zinc, several factors come into play. Aluminum gutters are a popular choice due to their lightweight nature, durability, and resistance to corrosion. They require minimal maintenance and are available in various colors and styles to match different aesthetics. Vinyl gutters, on the other hand, are lightweight, affordable, and easy to install, making them a budget-friendly option. However, they may not be as durable as other materials and can become brittle over time. Steel gutters offer excellent strength and durability, making them suitable for heavy-duty applications. They are resistant to impact and can withstand harsh weather conditions. However, steel gutters may be prone to rusting if not properly coated or maintained. Zinc gutters are known for their longevity and natural resistance to corrosion. They develop a protective layer over time, known as a patina, which enhances their durability. However, zinc gutters tend to be more expensive upfront. Overall, the choice of gutter material depends on factors such as budget, desired durability, maintenance requirements, and the specific needs of the property.
If you're looking for one of the best gutter companies in Corpus Christi to help you with your repair or installation, be sure to get in touch with Bayfront Exteriors. We would be happy to speak with you about your specific needs.